June 2021
After two years of dealing with COVID-related issues, OIS-KL, continues to make progress. With 236 students enrolled, even during international shutdowns of expatriates coming into the country, the school is making progress. Since the break-even number for enrollment is approximately 350 students, the school is still struggling financially. Please pray that the COVID vaccine will soon be distributed and foreign students can enter the country again. Your donations and prayers are still greatly needed and appreciated. The good news is the ministry to the students He has given us is thriving.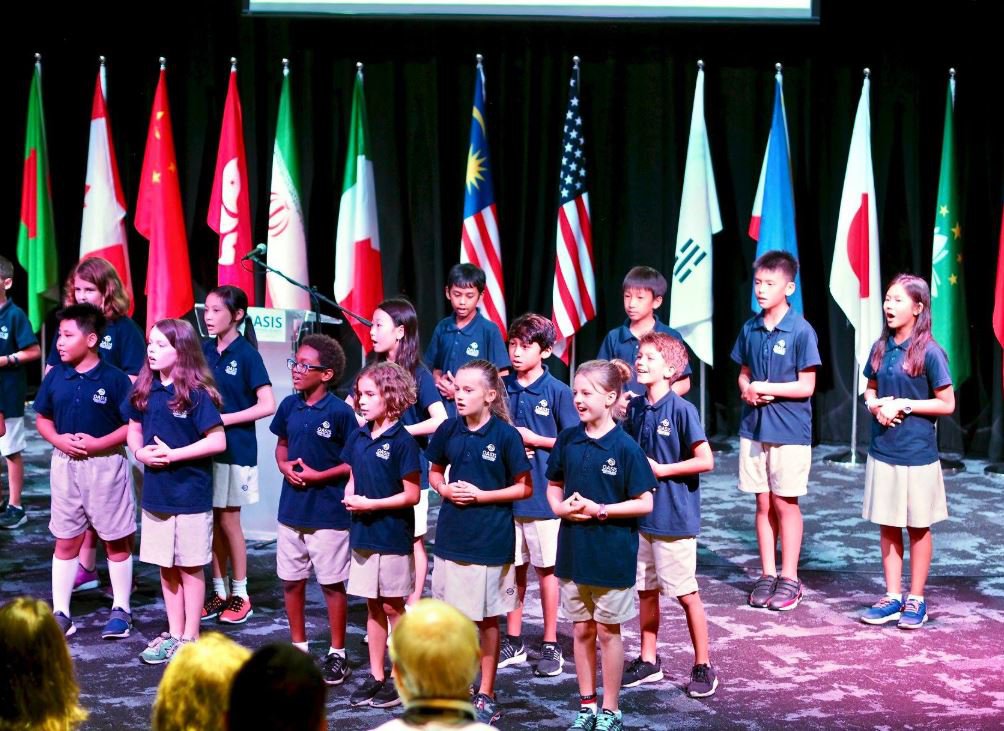 December 12, 2018
The Ribbon-Cutting and Grand Opening took place in November; 150+ students are now enrolled and in classes! Our "Malaysia Miracle" is operational, thanks to your continued support.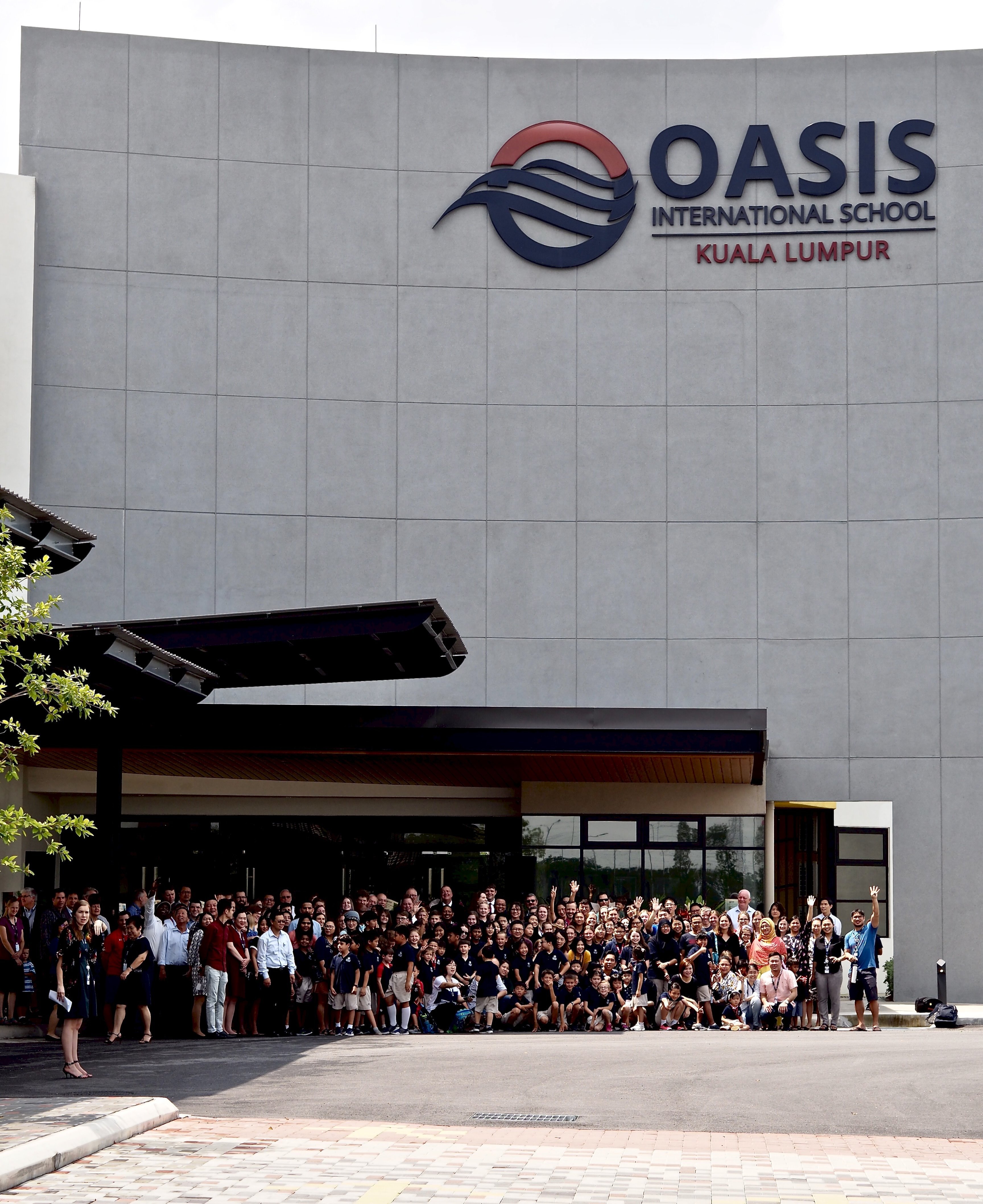 October 24, 2018
Watch this (under 2-minute) video! So sweet to see the children on the playground. 115 students enrolled so far! Your continued support is greatly appreciated (and needed).
September 5, 2018
Let the classes begin! Oasis International School, Kuala Lumpur, opened with almost 100 students. This is a great beginning, and there is every reason to believe the school's 600 seats will fill up quickly over the next couple of years. Thank you for your continued financial support during this first year.



August 1, 2018
School license received!  Teachers have arrived.  Students are enrolling.  The building is ready.  School begins soon.  (Pic shows staff families at a local restaurant in KL)

June 27, 2018
Big News!!!  The occupancy permit has been issued and the school offices are now open in the new facility!  Very exciting!  Also, the teachers are completing their pre-field training at Oasis headquarters right now, and will be arriving in country soon.  Last minute preparations will take place over the summer, and school opens in August!  Look what God has used you to accomplish!  May His name be praised.
May 1, 2018
Oasis President, Dr. Hale visits the new school site.
March 13, 2018
Campus opens for prospective student tours.
February 12, 2018
Building tours begin in March.
February 6, 2018
School opens in August 2018.


January 15, 2018
Campus nears completion!
January 2, 2018
We have power!



December 1, 2017
Building tours will begin in February.  Enrollment has already begun!
October 13, 2017
Building Construction Scheduled to be Complete by February 2018
Enrollment is now open, and everything is on schedule for the September 2018 opening of school!
September 6, 2017
As construction reaches this stage, work must begin on the "finishing" components.  This includes technology set-up, interior design, shelving for the library, air-conditioning, etc.  These are costs for which Oasis is responsible—approximately $3 million.  From this point, financial matters become critical.  "On the ground" staff must increase and your support becomes even more critical.  As you can see, we have a long ways to go to reach our financial goals, so please do what you can, and pray, pray, pray!


July 30, 2017
Construction begins on the roof. 
June 30, 2017
The third floor gives final shape to the building.
June 7, 2017
Construction is ahead of schedule.
May 25, 2017
Ben and Jessica Hale visit the school site.



April 27, 2017
Exciting footage of the school taking shape!
March 25, 2017
Joe Hale and Ben Hale visit contruction site.

February 27, 2017
The latest drone footage showing much progress.
January 9, 2017
The main classroom building is taking shape.

January 5, 2017
Foundation work progresses at school site.

December 7, 2016
Foundation work begins in earnest.

September 25, 2016
Construction on the building begins!  

September 2016
Financial agreements are finalized and building permits are obtained.
June 2016
The lease agreement is finalized, allowing construction to begin.
August 2015
Malaysia MOE issues an international school license to Oasis International School.
August 2014
An agreement is reached with IJM Land's Rimbayu development to partner together to build a school.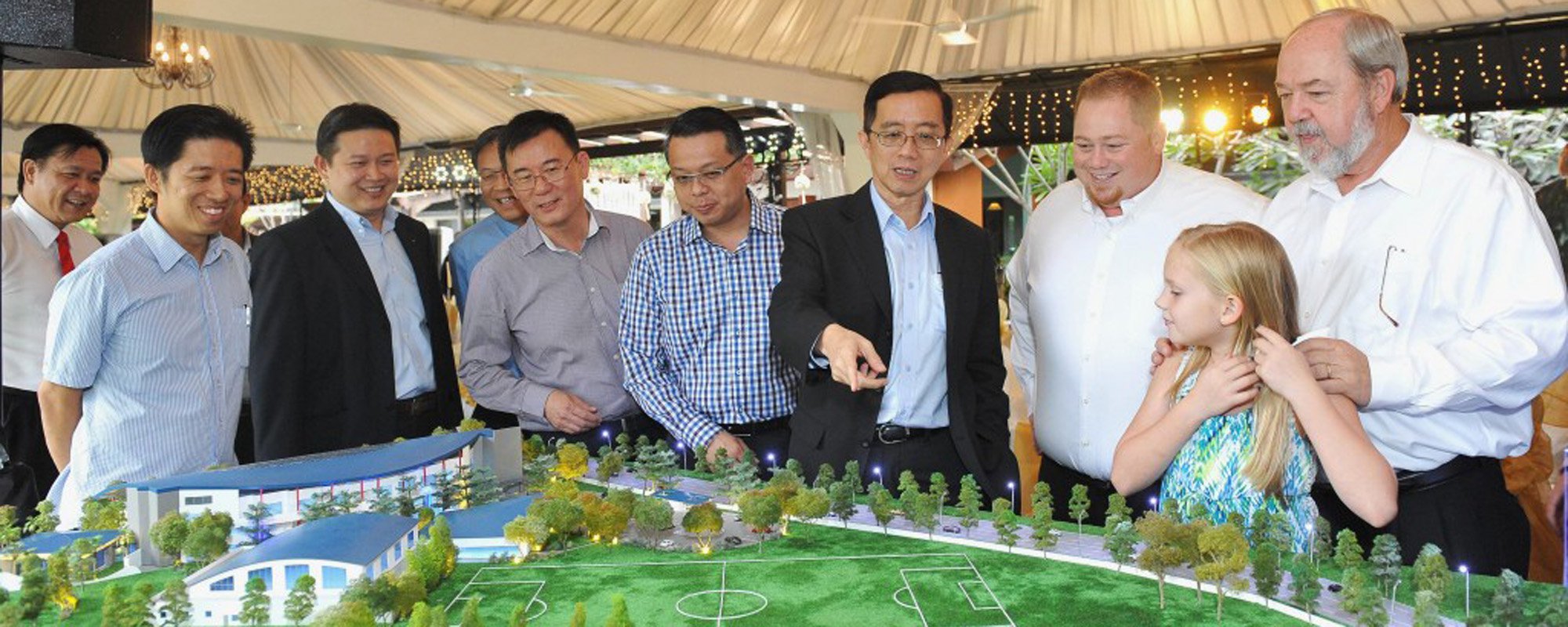 March 2014
Serious dialogue with developer IJM Land about a possible school site in the Rimbayu development begins.
May 2013
The initial application for a school license with the Ministry of Education is submitted.
October 2012
Initial contact is made with the Malaysian Ministry of Education.
September 2012
A setup team was established in Kuala Lumpur.
June 2012
Oasis formed a Malaysian company to own and operate the school: NorthStar Associates, SDN BHD.
February 2012
The Western Association of Schools & Colleges (WASC) submitted a letter of pre-accreditation to
the Malaysian MOE on behalf of the Oasis Project.
October 2011
A team from Oasis International Schools conducted a four day site visit to Kuala Lumpur.
1992-1995
Oasis International Schools initiated investigatory exploration regarding establishing a school in Kuala Lumpur, Malaysia.